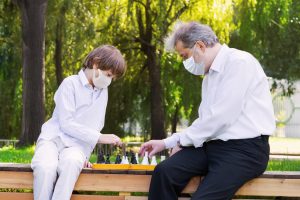 The normal routines of daily life continue to be upended by the coronavirus, and uncertainty exists about how long businesses and schools will remain closed. For divorced parents, dealing with child visitation and the coronavirus can create increased anxiety and conflict. As the situation and resulting government orders may change rapidly, the best co-parenting will result from cooperation and flexibility.
Most stay-at-home orders across the country do not take priority over court-ordered visitation provisions. The stay-at-home order issued by New Jersey Governor Phil Murphy specifically provides an exception allowing travel for family visits. Other states have taken a similar approach. Orders enacted in California and Illinois included language that specifically allow travel for custody exchanges between parents. Massachusetts officials have also stated that the virus does not provide a legal basis to disobey visitation orders.
The general guideline in virtually every state is that, at a minimum, court-ordered visitation schedules should continue to be followed unless there is some specific and provable reason to restrict contact such as either a parent or child contracting the disease. Denying visitation based on a generalized fear that a child may be exposed to the virus is insufficient.
However, if visitation requires long-distance or air travel, parents may be more justified in canceling those visits. It would be hard to fault a parent for refusing to put a child on a bus or airplane and exposing the child to persons outside the household. Make-up time at a later date may be more prudent.
If a child or non-custodial parent has been exposed to the virus, the responsible action is to self-quarantine for 14 days. During that period, visits should voluntarily be suspended in favor of contact via Skype, FaceTime, phone calls, letters, texts and e-mails. Similarly, if a child begins showing virus symptoms while in the care of a non-custodial parent, the wisest course may be for the child to remain with that parent until the symptoms pass.
Numerous situations may arise involving parents and children and exposure to or actual infection from the virus. Each may require a different approach depending on a variety of factors. For example, if other members of a household have underlying medical issues and are potentially more vulnerable to the effects of the virus, visitation by a child who may have been exposed to the virus makes little sense.
The bottom line is that parents must strive to use common sense and not use the virus as an excuse to generally deny visitation.
Denying Visitation Comes With Risk
Non-compliance with a court-ordered visitation schedule may expose the parent who denies visitation to a future contempt proceeding. While no one is certain about how courts will treat parents who unilaterally cancel visits, judges typically take a negative view toward parents who violate visitation orders. Courts can impose sanctions ranging from an award of costs and legal fees to ordering make-up time and changing the current custody arrangement.
A parent who is denied visitation may have a difficult time obtaining legal intervention since most courts across the country are closed or are only handling emergency motions. Such a motion, if intended to restrict visitation, will likely require extreme circumstances and specific evidence showing that a child's health will be seriously jeopardized if a visit occurs. The practical effect of court closures is that parents who are denied visits have little immediate recourse. When courts reopen, calendars are likely to be clogged with contempt motions.
Parents in conflict over visitation have a few non-judicial options to attempt resolution. If the parents have lawyers, allow the lawyers to try to reach a compromise. Alternatively, parents can hire a mediator and hold a phone conference in which each side presents arguments. If the mediation is successful in reaching an agreement, the resolution should be reduced to writing and signed by all parties.
Tips for Successful Co-Parenting
Ideally, parents should always have the best interest of their child in mind when considering changes to the visitation schedule. Child visitation and the coronavirus do not have to be mutually exclusive. By following some general guidelines, parents can set good examples for their children on how to cope with a difficult situation.
Communicate and remain flexible. Good communication is essential to coordinate schedules and to adjust pick-up times and locations. As a custodial parent, if you feel visitation should be canceled or delayed, discuss your concerns with the other parent. Offer make-up visitation time to take place after the virus has passed.
Plan in advance for specific scenarios. Try to reach an agreement with the other parent about how situations will be handled if either parent or a child contracts the virus. Parents should agree to advise each other if anyone in their respective households is exposed to the virus or begins showing symptoms.
Keep written records of communication. This includes statements of concern about visits, offers to make-up visits at a later date and agreements to alter the current plan. Note the reasons for any changes.
With many parents now working from home, increasing the time spent between the child and non-custodial parent may be advisable. Both parents can share more equally in the time and cost of care. A frequent change of residence each week may help to reduce a child's stress from being unable to see friends and go to school. Reduced parental stress may also be a benefit.
Don't try to reinterpret visitation provisions for school vacations. Just because most schools are closed, don't argue this is either an extended spring break or an early summer break. Many students are still expected to attend class online. Continue to use the vacation schedule originally set by the school district.
Situations involving child visitation and the coronavirus will continue to rapidly evolve. Circumstances may change quickly. While courts may be closed, many attorney offices remain open. Any parent considering disobeying a court-ordered visitation plan would be wise to consult a family law attorney for advice. If you have any questions concerning child visitation during the coronavirus, call the Law Offices of Peter Van Aulen at (201) 845 7400 for a consultation.