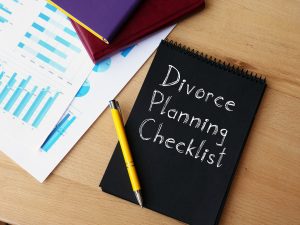 The emotions you feel when you know that your marriage is ending can be complicated and overwhelming. Money may be the last thing on your mind when you are going through something so traumatic. However, you must not delay taking steps to protect your financial interests when you are sure that your marriage is coming to an end. Here are ten steps to take when preparing for divorce.
Talk to an Attorney
The first thing that you should do is talk to an attorney. You may feel that legal advice will not be necessary because you believe that you and your spouse can sort things out between yourselves. However, a divorce can become acrimonious once the process has begun. So, it will be better to have an impartial adviser on your side to explain your rights and obligations.
Open a New Bank Account
If you have a joint account with your spouse, you should open a bank account in your sole name as soon as possible. Closing joint accounts may not be possible immediately because you will likely have regular payments that will still need to be met. Even so, joint accounts and joint credit cards should be closed as soon as practicably possible. Keeping joint accounts open may lead to your spouse running up debts for which you will both be liable.
Protect Savings and Investments
The next step is to protect your joint savings and investments. You can do this by amending the mandates on savings and investment accounts to require two signatures for any withdrawals. When people get divorced, it can put a strain on both parties' finances. The financial pressure can lead to people breaking promises and spending joint resources before the divorce has been finalized.
Make an Inventory of Joint Assets
You will need to agree on how you will share your joint assets with your spouse. So, you will need to have a list of all the belongings that you own jointly, including household goods, furniture, motor vehicles, appliances, and other valuables. It is easy to forget some of the possessions you have accumulated with a partner over the years. It is best, therefore, to make a thorough inventory of assets to ensure that the final split will be fair and equitable.
Assess Joint Debt
Agreeing on how joint debt will be split can be fraught with difficulties. Often, there will be arguments over who was responsible for things like credit card balances and overdrafts. If you can, it would be best to reduce or pay off joint debt before the divorce. If clearing the debt is not feasible, then you will need to know what joint debt there is outstanding. Consider, too, if any joint debt was initially incurred by one party before the marriage date. Debt incurred before the marriage may be classed as non-marital debt, in which case it is the responsibility of the person who incurred it.
Make Copies of Documents
Make copies of all the essential documents that you can find. The paperwork you need to have copies of includes bank statements, tax returns, mortgage documents, and deeds. This list is not exhaustive by any means. It would be advisable to have copies of any documents related to your joint and sole financial affairs. Do not forget to make copies of any relevant files on the family home computer.
Start Budgeting for One
It would also be a good idea to prepare a budget for your sole finances as soon as possible. You need to know how much money you will need to live on and what income you can expect in the future. At some point you will be moving out of the marital home, and you will then need to rent or apply for a mortgage. So, the sooner you get your finances under control, the better. If you know that divorce is on the cards, it would also be advisable to start building up some savings.
Start Building Your Credit History
If you do not have credit cards in your sole name, it would be an excellent idea to apply for some so that you can begin building up some credit history. You might also want to start monitoring your credit reports. Monitoring your credit reports will help you understand what you need to do to build a better credit rating, and this will also alert you if your spouse takes out or extends any loans in your joint names.
Keep Things as Amicable as Possible
If you and your spouse argue over every detail, your divorce will be lengthy and expensive. So, it is best to keep the process as friendly as possible. Wherever possible, try to reach an agreement between yourselves before lawyers need to get involved. However, do not give way on crucial issues merely to keep the peace.
Put the Children First
Finally, try not to forget the children when you are going through a divorce. They will be hurting and confused, as well. Talk to your children about what is happening and reassure them that both parents still love them. Ensure that any custody or financial settlement you reach with your spouse does not adversely affect the children. You and your spouse may have decided to part company, but your kids still need both their mom and dad.
Conclusion
Unfortunately, when people get divorced, things can get bitter. So, it would be best if you began preparing for divorce sooner rather than later if you see a divorce coming. Talk to an attorney as soon as you know that a divorce is unavoidable and start separating your finances as soon as it is practical to do so. If possible, try to keep the divorce as civilized and amicable as possible. If you have any questions concerning preparing for divorce, call the Law Offices of Peter Van Aulen at (201) 845-7400 for consultation.