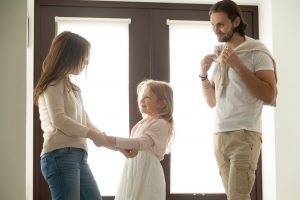 Divorce or separation creates a new family dynamic that every member of the family has to adjust to.  This new situation can be especially difficult for children.  Thankfully, successful co-parenting can help children adjust to their new situation.  Here are five tips to help you successfully co-parent.
Focus on what you can agree on and the rest will take care of itself over time
It may sound difficult, but it is possible to find something to agree on with your ex when it comes to your children.  It does not matter how basic the issue or fact is that you can agree on; it's just important to find something you agree on and use that as a starting point for conversations about your child.  If you can agree on one thing, that can lead to fruitful discussions about other topics.  For example, most parents can agree that it's important for their child to be healthy. If you're having a hard time thinking of a topic you can agree on with your ex, think of a topic or issue that you know your ex thinks is important.  If you can concede his/her point or you don't feel strongly one way or another about an issue, use that topic or issue as a conversation starter.  Once you can build some common ground by agreeing on an issue, you can, over time, work up to discussing more difficult topics and work on resolutions.
Accept that you can't control everything when you co-parent
You may hate the amount of screen time your child has when he is at your ex's house.  Unless screen time becomes extremely detrimental to your child's health, education, or welfare, the amount of screen time your child has is probably not an issue worth fighting over.  You will have to accept that your ex will likely run his/her household differently than you will and unless a child's safety is at issue, you have no say in what happens at your ex's house.  What you can control, however, is what happens at your house and how you react to different situations.  You can gain a great deal of peace if you learn to accept what you can and can't control.  If you worry and fret and try to argue with someone over what you can't control, you will drive yourself crazy and create unnecessary conflict. 
Have friendly, open communication
Do your best to separate how you feel about your ex and the reasons why you are separated and focus on the well-being of your children.  To that end, practice friendly, open communication.  If you are having a hard time being civil to your ex when communicating about your child, speak to your ex as if he/she were your child's teacher.  You would give your child's teacher a certain amount of respect and deference.  This can help you develop a new way of communicating with your ex about your child.
Your ex is your parenting partner and you have to forge a workable relationship for the best interests of your child.  Find a way to communicate that works best for both of you.  If you get along fairly well via text, do that.  If you are better at phone communication, do that.  If in-person communication works best, do that as much as possible.
In addition, inform your ex of important events and facts that he/she may not be privy to.  If your child's game is rescheduled, let your ex know as soon as you know.  To avoid feeling like your ex's secretary in this regard, make sure your child's school, teacher, daycare, doctor, and coaches have both parents' email addresses and/or phone numbers.  You can also use apps for co-parenting or simply have a shared calendar where you both can place important events on your child's calendar.
Show respect to the other parent in front of your child
Your child may have a lot of questions about your separation or divorce.  It can be tricky to know how best to answer those questions and speak to your child about divorce.  The best way is to answer your child's question in an age-appropriate and honest, but not hurtful manner.  Practice ways to explain to your child what is happening. While it's important to be honest, your child also doesn't need to know the in's and outs of your relationship and separation. Always show respect for your child's other parent when speaking about him/her in front of or to your child.  By displaying respect for your child's other parent to and in front of your child, it will help your child to feel safe and loved. The transition to co-parenting will go much smoother for everyone.
  Set boundaries and respect them
It is important to respect each other's time and space with your child.  If your ex has parenting time over the weekend, you should not try to interfere with that parenting time by calling or texting your child or your ex unnecessarily during the weekend.  It is not uncommon when parents first start co-parenting to miss their child and try to communicate with him when he is with the other parent.  However, it is disruptive of your child's time with his other parent and can negatively affect your relationship with your ex even more, as well as chip away at your relationship with your child.
It is important and valuable, however, to let your child know that he can call or text either parent at any time.  It can make your child feel more comfortable knowing that he does not have a boundary or limit when it comes to communicating with either parent.  If you find that your ex calls or texts too much during your parenting time, remember that you do not need to respond immediately to every call or text.  If you wait a while to respond, your ex will learn to text and call less frequently.  Likewise, if you have a court-ordered parenting schedule, you should abide by that schedule as much as possible.  There will be times when life circumstances may call for a parenting time arrangement outside of that schedule.  In these types of situations, it is important to be flexible.  If you and your ex find that the court-ordered parenting schedule is no longer working for your family's schedule, you should not just adopt your own schedule.  You should seek a modification with the court or through meditation.  That way, if a dispute ever arises between you and your ex, you can work from the modified schedule and not the old, unworkable schedule.
Adjusting to a new family dynamic and schedule can be difficult for every family member.  Learning how to co-parent can help ease the transition for everyone.  By following these tips and adopting a new mindset about your relationship with your ex, you can learn to successfully co-parent. If you have an issue about co-parenting and child custody in New Jersey, call the Law Offices of Peter Van Aulen at (201) 887-0461 for a consultation.