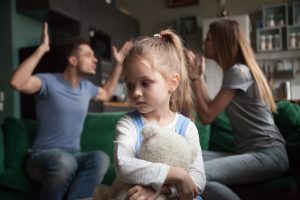 At the conclusion of a divorce involving children, a court usually enters a Parenting Plan or visitation schedule outlining the specific times when each parent will have physical custody of a child. Cooperative parents can generally make informal changes to the plan when circumstances dictate to accommodate such things as vacations, involvement in school events or parental work schedules. Flexibility serves the needs of both parent and child and minimizes stress.
Unfortunately, not all divorces result in cooperative parenting, and a parent may withhold a child from the other parent in violation of the court ordered parenting plan. When a parent interferes with the other parent's right to custody, the offending parent may be subject to both civil and criminal penalties.
Custodial interference, in the broadest sense, occurs when one parent actively disrupts the other parent's scheduled time with their child.  Interference may be as relatively minor as preventing phone contact between a child and parent, interfering with the other parent's participation in school activities or returning a child an hour late from visitation.
In the extreme, custodial interference could involve a non-custodial parent transporting a child out of state without the other parent's permission and concealing the location of the child. Such action would trigger a host of state and federal laws. More often, custodial interference involves one parent refusing to return the child to the custodial parent after visitation or taking the child without permission at a time not allowed by the parenting plan
. Parents should also remember that, from a legal standpoint, child support and visitation are not tied together. A parent who is owed child support but fails to receive payment from the other parent does not have a right to withhold contact between a child and the owing parent. Similarly, a person who pays support cannot stop paying simply because he believes he is getting insufficient time with the child.
Remedies
Obtaining immediate assistance to seek return of a child can be frustrating. Assuming that contacting the withholding parent is ineffective, the next call is often to local police. Law enforcement personnel are often reluctant to get involved in a family dispute unless imminent danger to or kidnapping of the child can be established. Even when a custodial parent can show that a formal parenting plan clearly proves the other parent is in violation, parents are often told that the matter is for the family court to resolve.
The aggrieved parent can file a contempt motion in family court seeking return of the child and the imposition of sanctions on the withholding parent. If a court finds a parent has willfully violated a parenting plan, the court may order make-up time for the parent who was denied rightful custody. The court could also order the offending parent to pay a fine, court costs and the other parent's legal fees.
The court might also impose a temporary change in the visitation schedule, limiting contact with the parent found in contempt or requiring visitations be supervised by a third party. The family court can be fairly creative in structuring an appropriate remedy intended to eliminate or minimize the improper conduct from reoccurring.
The drawback of resorting to the family court is that the process takes time. A motion must be filed and served on the withholding parent who then has a short period to file a response. The court will hold a hearing at which both parents and their attorneys may appear. The process can easily take weeks during which the child may not be returned by the withholding parent. However, the longer the parent withholds the child, the more severe the court's ultimate sanctions may become.
Criminal Penalties
In many states, custodial interference carries substantial criminal penalties. Washington, New Jersey, Texas and California are among states that have criminalized interference. A person who interferes with custody may be subject to both civil penalties in the family court and misdemeanor or felony sanctions in criminal court.
State laws differ, but, generally, custodial interference is defined in criminal statutes as taking, detaining, enticing or concealing a child with the intent to deny access from the other parent who has the lawful right to time with the child pursuant to a court order. Severity of the penalty may depend on how long the child was concealed, whether a parent was previously found in contempt for violation a parenting schedule or whether the offending parent has willfully violated a court order on multiple occasions.
In Washington State, a first conviction is often treated as a gross misdemeanor with the maximum penalties being up to a year in jail and a $5,000 fine. A second conviction becomes a felony which carries up to five years in jail and a $5,000 fine. New Jersey law, by comparison, allows imprisonment between three and five years and a fine up to $15,000 for a first offense. If the child is taken outside the U.S. or withheld more than 24 hours, potential penalties jump to between five and ten years in jail and a fine up to $150,000.
Having a well-founded belief that the child may be in imminent danger if returned to the other parent may provide a defense. However, the person keeping the child must often first seek to enlist the aid of law enforcement or contact police or a child protective services agency within 24 hours and disclose and the location of the child.  Simply because a child consents to stay with the withholding parent voluntarily does not provide a blanket defense to a criminal change of interference. Most states limit that potential defense to children older than 14 or 16 years of age.
Making the child's best interest a priority should guide parental decisions. Minimizing parental conflict is always preferable. However, if things start to get out of hand and emotions flare, contacting an attorney for advice is a wiser course than simply choosing to violate a valid court order. If you have any questions about custodial interference or child custody laws in NJ, call the Law Offices of Peter Van Aulen at (201) 845 -7400 for a free initial consultation.