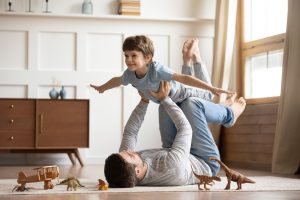 A parenting time order establishes when a noncustodial parent will be with the child or children born in a partnership (or an order handed down in a paternity case). Parenting time historically had been known as visitation. The term has changed in most jurisdictions to reflect the fact that a noncustodial parent and a minor child should not be reduced to the position of being visitors in each other's lives. Circumstances may arise when a desire arises to change a parenting time order. There are some facts and factors to bear in mind when it comes to the process to alter or amend a parenting time order:
Seek agreement to change parenting time order
Judicial standard when seeking to change parenting time
Suspend parenting time due to an emergency
Motion to alter or amend parenting time order
Seek Agreement to Change Parenting Time Order
There is a legitimate preference for divorced parents to work together when it comes to matters associated with their children. If a situation arises in which a change of parenting time is considered for one reason or another, in an ideal state the parents should try to work out an agreement between them regarding a change of a parenting time order.
If parents can reach an agreement regarding a change to a parenting time order, they save time and money as well as lower the level of stress and other emotions that can be associated with a dispute surrounding a parenting time issue.
Once an agreement is reached, the new parenting time parameters are committed to written form. The written agreement is then submitted to the court for approval. A judge is called upon to confirm that the proposed parenting time charge satisfies the best interests of the child or children.
Judicial Standard when Seeking to Change Parenting Time
Speaking of the best interests of a child when a change of parenting time order is at issue, that represents the official legal standard used by a court in this type of situation. When considering what is in the best interests of a child regarding parenting time, a court considers a variety of factors that may include:
Living situations of both parents
Physical, mental, and emotional health of the parents
Preference of a child (depending on that minor's age and maturity level)
Suspend Parenting Time Due to an Emergency
As a general rule, a change in parenting time is not something that happens immediately. Even when there is an agreement between the parties, obtaining approval from the court can take at least some time.
If an emergency arises, the possibility exists for an immediate alteration in parenting time, at least for a temporary period. Such an alteration would remain in place until a court can have a hearing on the reason an emergency change in an existing parenting time order is deemed necessary.
In this type of scenario, a court is apt to suspend parenting time until a hearing can be held. In the alternative, a judge might order parenting time be supervised.
An emergency change in parenting time can occur for several reasons. For example, if the noncustodial parent is alleged to have a substance abuse issue that jeopardizes the welfare of a child, an emergency suspension of parenting time might occur.
Motion to Alter or Amend Parenting Time Order
When parents are at odds regarding altering or amending a parenting time order, the parent desiring to make such a change files a motion with the court. Once a motion has been filed with the court, the court will may schedule the matter for oral augment or hear the matter on the papers. In most cases in New Jersey the Judge is required to have a plenary hearing to modify an existing custody and parenting time order. At the hearing, both parents are provided an opportunity to present evidence and testimony from witnesses to support their respective positions on whether a parenting time order should be changed. If you have any question concerning modifying a custody or parenting time order in New Jersey, call the Law Offices of Peter Van Aulen at (201) 887-0461 for a fee initial consultation.