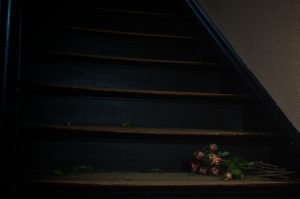 Several divorce therapists and other experts have determined that there oftentimes are seven steps associated with grief and divorce. This is based on the long-used stages of grief and loss paradigm long used regarding death and dying and other losses. The seven steps or stages of grief and divorce are:
Denial
Pain
Anger
Bargaining
Guilt
Depression
Acceptance
Bear in mind that the seven stages of grief and divorce discussed here do not necessarily happen in the sequence in which they are presented in this article. In addition, there are instances in which a person may experience one of these states more than one time. It is also possible for a person to experience more than one of these stages simultaneously.
Denial
Typically, an initial stage experienced by some people (but not all) who face divorce is denial. A person in this stage cannot believe that his or her marriage is ending. Denial may be evident more often in the mind of the person who is being sued for divorce as opposed to the individual that filed the case. With that said, an individual who is the person who files a divorce complaint may also experience denial even if he or she initiated the marriage dissolution case in the first instance.
Pain
It is typical during divorce proceedings for a person to feel pain or fear. Fear associated with a marriage dissolution case as part of the grief and divorce process typically is associated with uncertainty and an unknown future that likely feels as if it will be markedly different from what was experienced in married life.
Pain tends to stem from the intense emotions commonly associated with the end of a relationship. If children are involved, that level of pain can be intensified over issues life the prospect of spending less time with children going forward into the future.
Anger
Anger certainly is one of the most prevalent emotions experienced when a marriage is heading towards divorce, when a marriage dissolution case is pending, and even for some time when the court process itself has concluded. Anger can take many forms and come from many aspects of a marriage coming to an end. Some of the most frequent causes of anger evident in a marriage dissolution case include:
Disputes over money
Disputes over children
Anger over the very fact a divorce is occurring
Infidelity
Bargaining
The bargaining stage of grief and divorce tends to occur in one of two ways. In many cases, a party to a divorce will experience both levels of bargaining during the marriage dissolution process.
First, a party to a divorce may bargain with his or herself. In such a scenario, a divorcing person may make deals with his or herself along the lines of "if I do this, then that will happen."
Second, bargaining as a stage of divorce is also exhibited in behavior between the spouses. For example, if one of the spouses is not in favor of ending the marriage, that individual may attempt to bargain with the person who filed for divorce. The individual opposed to the marriage ending might attempt to bargain to keep the marriage alive by promising to make certain changes if the person who sued for divorce will stop the case.
Guilt
Oftentimes, a party to a New Jersey marriage dissolution case will feel guilt, sometimes intense guilt. This can be associated with the state of the relationship with the other spouse. It can also be strongly present in regard to matters associated with the children.
Depression
Mental health professionals note that depression is a common emotional issue associated with divorce. If depression is particularly profound, a person involved in a divorce is wise to seek professional support and assistance.
Acceptance
If a healthy grieving process does occur, ultimately a party to a divorce accepts the state of affairs. That individual is then able to move forward with his or her life.
If you are planning on filing for a New Jersey marriage dissolution case, or if you have been sued for divorce, you need to seriously consider retaining the services of an experienced divorce attorney. You can schedule a free initial consultation . with a New Jersey divorce lawyer at the Law Offices of Peter Van Aulen by calling us (201) 845-7400. We will schedule a free initial consultation . and case evaluation with a skilled, experienced New Jersey divorce attorney at your convenience.