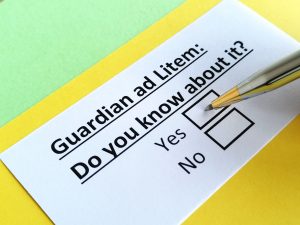 Many people in the United States have general ideas of what is involved in divorce proceedings, even when they personally have not been involved in such cases themselves. Television shows and films regularly feature divorce cases and marriage dissolution proceedings as part of their productions. With that said, a most Americans likely are unfamiliar with a guardian ad litem and what such a person does in a divorce case.
There are three primary points of consideration when it comes to having a basic understanding of the functions of a guardian ad litem in a divorce case:
Definition of guardian ad litem
Types of domestic court or family court cases in which a guardian ad litem is appointed
Guardian ad litem and child custody and parenting time issues
Definition of a Guardian Ad Litem
The training and functions of individuals appointed by courts to serve as a guardian ad litem are based on the provisions of the laws of a particular state. There can be some fairly significant differences in the laws from one state to another.
With that said, the basic definition used across the country is a person appointed by a court to watch over or protect an individual during a judicial proceeding. At first blush, this may sound like the duties of an attorney representing a party to a case. In fact, in many jurisdictions, a guardian ad litem has a law degree and additional specialized training. Continue Reading →