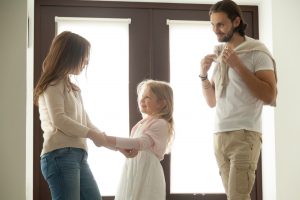 Divorced Parents may want nothing to do with each other following a difficult divorce, but when minor children are involved, the necessity of exchanging children to comply with court-ordered custody and visitation plans usually requires some degree of interaction. Ideally, contact between ex-spouses during an exchange should extend just long enough to safely accomplish delivery of the children. However, if grudges are held or conflict exists regarding parenting styles or issues, the event of exchanging the children carries the potential for emotionally harmful and even violent behavior.
Spouses may fall out of love with each other, but children will still love each parent and hope to have a strong bond with each parent. Children who witness divorced parents arguing or threatening each other generally experience stress and often blame themselves for parental problems. Such stress can lead to depression, poor school performance, negative social interaction and even physical health problems.
When children are present, communication between hostile ex-spouses should be kept to a minimum. Issues involving child support or parenting differences should be addressed by e-mail, phone calls or by communication via attorneys. Continued conflict experienced during custody exchanges can make a child fearful and resistant to comply with the visitation schedule simply to avoid the negative feelings which routinely accompany the exchange. 
Parents may first encounter problems exchanging the children while the divorce is pending. A temporary custody and visitation agreement or order can be arranged during the divorce. If problems arise before the divorce is final, more specific provisions can be written into the final order regarding the time, place and method of exchanging the children.
When the potential for verbal or physical conflict occurring during a child exchange exists, there are actions that can minimize or eliminate that risk.
Be prompt. Making the other parent wait beyond the scheduled exchange time opens the door for negative interaction from the start. Don't disrespect the other parent by being late to pick-up or return the child. If you have your child with you, don't criticize the other parent for being late.
Limit discussion. The exchange is not the time to ask about support or take issue with something the other parent has done. If there is something important related to school, medical needs or activity which will take place during the visit, mention it briefly or simply write a short letter and hand it to the other parent at the exchange. Otherwise, simply tell your children to have a good time and that you will see them at the set time of return.
Take a friend. Negative behavior is less likely to occur when a witness is present. Having a friend, colleague or another adult with you during the exchange may reduce the chance of the other parent behaving badly. When there has been a history of domestic violence between spouses, having a third-party present is essential. The third-party can provide testimony to a court at a later date should inappropriate conflict occur.
Choose a person with whom the children feel comfortable. Advise the person that no more is expected than to witness the exchange and that there is no obligation to say anything or become involved in the exchange. If you have just started a romantic relationship, don't take the new significant other as the third party, at least early on. Bringing a new romantic partner to the exchange may only make matters worse.
Meet at a neutral, public location. Rather than meeting at a parental home, meet in the middle at a public parking lot, a shopping mall, or the child's daycare. If possible, choose a location where there are public surveillance cameras. Yelling and negative behavior are less likely to occur when a crowd is near.
Avoid meeting entirely. Create a visitation schedule in which the parent entitled to visitation picks up the child from school at the end of the school day and returns the child to school the morning following the visit. For example, if a parent gets visitation every other weekend, that parent can get the child Friday afternoon and return the child to school Monday morning. Be sure the school is aware of the visitation schedule and that the non-custodial parent will pick up the child on specific days.
If finances permit, consider using a supervised exchange service. This involves delivery and pick-up of the child at a facility with staff specially trained in family matters. Drop-off by one parent can be set for a specific time with pick-up by the other parent set for 15-30 minutes later. Parents can avoid each other entirely while knowing their child is safe. The supervisory staff can also document if a parent is consistently late.
The need for direct supervision of custody exchanges will likely decrease as children get older. It may become routine for an older teenager to drive or take a bus to the non-custodial parent's home and return to the custodial parent's home at the end of the visit.
If exchanges become routinely problematic keep a journal and document what takes place at the exchange. Note the time, location, any inappropriate behavior or comments by the other parent and how any conflict was resolved. A detailed journal may prove valuable in court.
A court is required to establish custody and visitation provisions that are in the best interest of the child. A situation in which parental conflict regularly occurs in front of the child will generally not be tolerated. If provided sufficient proof of parental misconduct, a court may require visits to be supervised or limited in length.
Custody and visitation orders can be modified if a substantial change in circumstances has occurred since entry of the most recent order. Escalating incidents of verbal abuse and threats or repeated failure to return a child from visitation in a timely manner may qualify as a substantial change.
Divorced parents should strive to set positive examples for their children. Custody exchanges provide a recurring opportunity for parents to demonstrate they can put the needs of their children first. Taking steps to minimize conflict during exchanges benefits both the children and parents involved. If you have any questions concerning child custody, call the Law Offices of Peter Van Aulen at (201) 845-7400 for a free initial consultation.